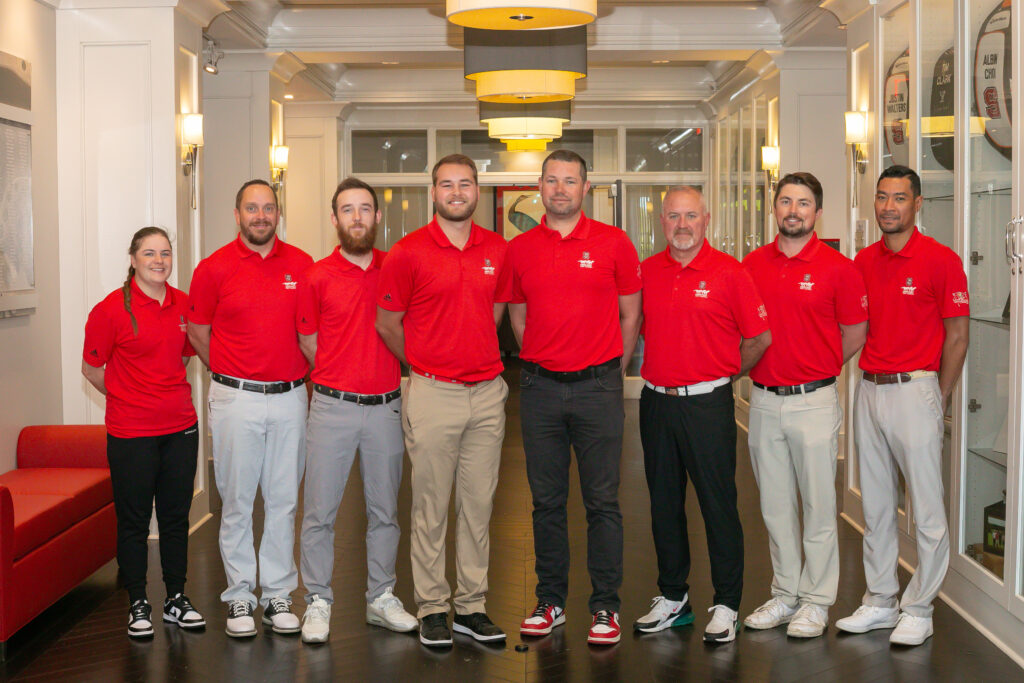 The Lonnie Poole Golf Course has gained a reputation for its player development services, which is not surprising since it's a training ground for future PGA Professionals. Utilizing Trackman and Foresight GCQuad, along with video analysis, the state-of-the-art player development suite on the first floor of the clubhouse enables players to improve their swing indoors. It serves as a one-stop shop for expert instruction and swing analysis, as well as tour-level custom fitting, club repair, and alterations.
Daniel Spurling, PGA, Golf Digest Top 100 Club Fitter and Director of Player Development, is an expert PGA Professional and Master Fitter. He is also a certified fitter with Mizuno, Taylormade, Callaway, Ping, Titleist and other prominent brands. It is under Daniel's leadership that we have been named among the top 50 Club Fitters in North America by Golf Magazine.
For lessons, PGA Director of Instruction, Steve Pietsch, leads our team of highly skilled instructors, including PGA Professionals and apprentices, providing expert golf instruction for players of all ages and abilities. We strive to create highly focused, individualized lesson plans to help each player achieve their goals.
Outstanding group instruction offerings include our ladies clinic, Golf and Grape, with weekly group lessons and tournaments. For juniors, Lonnie Poole Little League is a wildly successful program which focuses on long term development of junior golfers with a fun-first approach, building strong fundamentals that will last a lifetime!
Own Your Golf Game (OYGG) Partnership
Lonnie Poole Golf Course is proud to have partnered with OYGG Founder and world-class coach, Chase Duncan. Chase is an NC State Men's Golf alumnus, and works with some of the best competitive golfers. He has developed this innovative online learning program to help all golfers vastly improve their game. LPGC family members can get a free swing analysis with OYGG membership by entering the code LPGC at checkout. We hope that you find this partnership beneficial and encourage you to supplement online learning by contacting our professional staff for in-person golf lessons.
For more information about leagues, clinics, club fitting, pricing or lessons follow the links below or contact the golf shop at (919) 515 – 6527.

Skip To
---