All leagues are open to golfers of all ages and abilities. For more information on any of the leagues listed below please call the Lonnie Poole Golf Course Golf Shop at 919.515.6527.
---
Monday Night League
Join us on Monday afternoons for a weekly nine-hole golf league. With a two-player blind-draw format you can play with friends or meet new players! The weekly fee covers fees and prizes. To register, turn in your registration form to the Golf Shop. For more information call 919.515.6527.
Monday nights 4:00-5:30 p.m. (April, May and September), 4:30-6:00 p.m. (June, July and August).
---
Golf and Grape
Great for beginners and experts alike, Golf and Grape is a social league for all players. This league offers instruction on all aspects of the game and a glass of wine from the Terrace Dining Room! Call 919.515.6527 for more information or to be added to our email list!
Thursdays at 5:00 p.m. $30 weekly fee.
---
Friday Night League (Formerly Pack Nine)
Friday afternoon social league for players of all skill levels. This league is scored on individual stroke play with season prizes! Call 919.515.6527 for more information. To register, submit your registration form in the Golf Shop.
Fridays from 4:00-5:30 p.m. ( April-July 12) or 4:30-6:00 p.m. (July 26-August)
---
Lonnie Poole Little League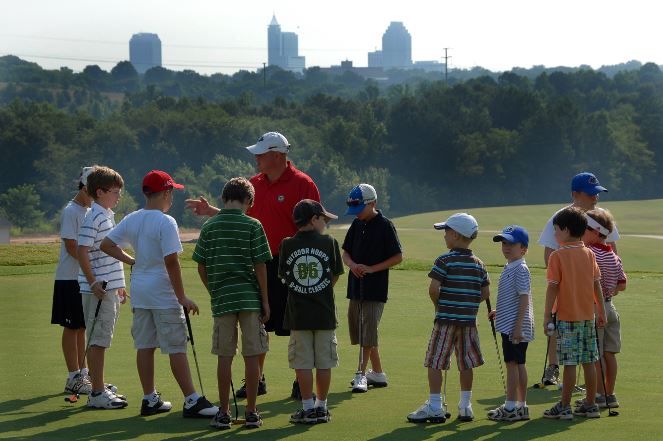 Open to boys and girls ages 5 to 16, the Lonnie Poole Little League is for players of all ages and abilities. Each Season is 8 weeks long and consists of one practice per week with 4 matches during those 8 weeks. Under the guidance of our PGA Professionals kids all start playing matches 25 yards from the hole and cannot move back until they shoot a score of 36(Even Par!) or better. This allows kids to progress at their own pace and really track their improvement as the year goes on.
Learn More
---
Contact Us
Want to learn more? Tell us more about your needs below or call us at 919.515.6527. We've also provided some resources below, including our golf outing agreement, tournament planning guide, and catering options. Rave! Events is the exclusive caterer at the Lonnie Poole Golf Course.